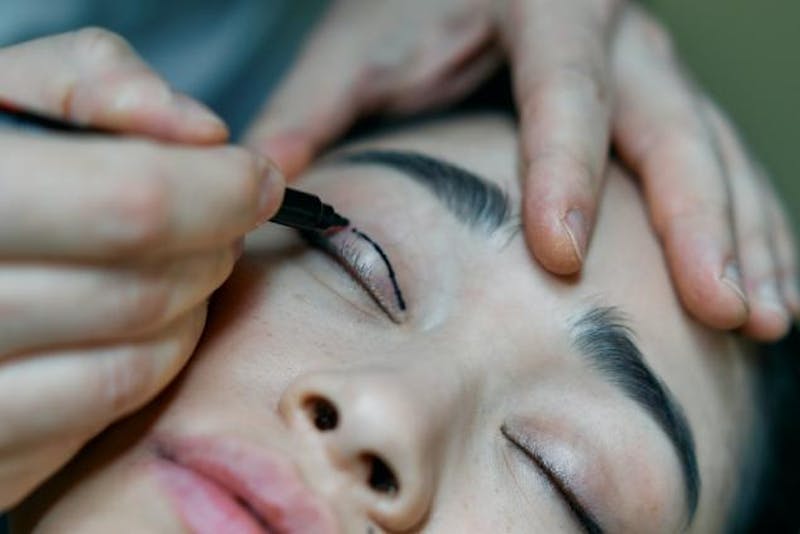 Have you considered having a blepharoplasty eyelift surgery or been told it might be a good option? If so, you're not alone. It's a very popular surgery right now because it yields fairly quick results with little downtime. But it's still surgery, so you should know what you're committing to before scheduling the procedure. Here's your guide to blepharoplasty to help you determine if it's the right cosmetic surgery for you.
Understanding the Purpose of Blepharoplasty Eyelid Surgery
Blepharoplasty is an eyelid surgery that's used for multiple purposes:
To fight signs of aging
To counteract eyelid sagging or hollowness due to genetics
To improve vision problems caused by excess skin around the eye
To lift the lid when drooping is caused by

ptosis

To correct eye deformities present from birth or caused by trauma
Blepharoplasty is frequently performed on both men and women. It can make you look more youthful, rested, and energetic, as sagging eyelids are associated with aging and fatigue. If you have only one eye that's a problem, blepharoplasty can help restore balance to your face.
Planning Your Blepharoplasty Eyelift Procedure
When you consult with a cosmetic surgeon for blepharoplasty, you first want to determine which type of blepharoplasty procedure you want:
Transcutaneous blepharoplasty, which is performed on either the upper lid or lower lash line to remove excess skin and allow for improved contouring
Transconjunctival blepharoplasty, which is when fat is removed from the lower eyelid to reduce a puffy appearance
You may want to have both the upper and lower eyelid worked on or only one. You may also elect to have the procedure on a single eye (e.g., for ptosis) or both eyes. Sometimes, fat is removed from one area and deposited elsewhere.
Once you make sure you and your surgeon are on the same page, you'll be given any pre-op instructions you need to follow, and your doctor will make sure you're a good candidate by ruling out any serious health conditions that could make surgery dangerous.
Be sure to go over the total cost of your blepharoplasty, as this procedure is rarely covered by insurance. Since you'll be paying out of pocket, you want to know about your surgeon's fee and any additional costs, like anesthesia, medications, or hospital/clinic fees.
Think about your recovery period before your blepharoplasty surgery (more below). You may need to take time off work, recruit help around the home, and go easy on activities for a short period. This is the time to hire house workers and childcare; you probably want to get your shopping and errands out of the way in advance.
The Day of the Procedure
Be sure to adhere to your blepharoplasty pre-op instructions to the letter on the days leading up to your procedure and the day of your surgery. It's vital to increase your chances for the best outcome.
You should plan on about an hour for each lid that will be altered. Depending on which type of blepharoplasty you're having done, you may or may not need general anesthesia, where you're entirely unconscious during the operation. Anesthesia is usually employed for transconjunctival blepharoplasty but not for transcutaneous blepharoplasty. However, some people prefer to be sedated if they get anxious about being awake during surgery.
You will need someone to drive you home after the procedure. If you have general anesthesia, you'll be too groggy to operate a motor vehicle. And even if you don't undergo sedation, your vision may be blurry, or you may be on pain medication that makes you sleepy.
What to Expect After Blepharoplasty Surgery
Fortunately, the recovery period after blepharoplasty eyelift surgery is pretty rapid compared to other cosmetic procedures. Your surgeon can give you an estimated recovery period before your surgery but plan on taking three to 14 days off work and routine activities. You may need to wait longer to return to strenuous sports or labor, especially if there is a chance you might become injured in the eye area.
You'll likely have some swelling and irritation around your incision site, but this resolves quickly, particularly if you follow post-op instructions faithfully. Some common elements of care include:
Using lubricating eye drops, ointment, or cold compresses to help with healing
Avoiding contact lenses and eye makeup for a few weeks
Wearing sunglasses outdoors for extra UV protection
Applying

sunscreen

to your incision site once it heals to prevent discoloration
Sutures are typically removed three or four days after surgery, and you'll have a follow-up visit or two with your surgeon to ensure everything is healing nicely.
You want to notify your doctor if you have ongoing pain, excessive bleeding or oozing, signs of infection like pus or a fever, or any problems potentially related to general anesthesia, such as shortness of breath, chest pain, or palpitations.
Finding the Best Blepharoplasty Surgeon
To find the right blepharoplasty surgeon for your procedure, here are a few questions you can ask:
What is your educational background?
Are you board certified?
What is your experience doing blepharoplasty surgery? How many patients have you operated on?
Have you had any patients with serious complications following blepharoplasty?
Do you have before-and-after photos of blepharoplasty patients?
Where do you perform blepharoplasty surgery?
Will I be able to reach you if I have problems after surgery?
Dr. Sarmela Sunder is double-board certified and highly experienced in blepharoplasty eyelift surgery. You can check out the Sunder Plastic Surgery before-and-after gallery to see the many excellent results we've achieved with blepharoplasty.
To book your consultation to discuss blepharoplasty further, call Sunder Plastic Surgery at 310-765-5110, or use our easy online form now to schedule your appointment.