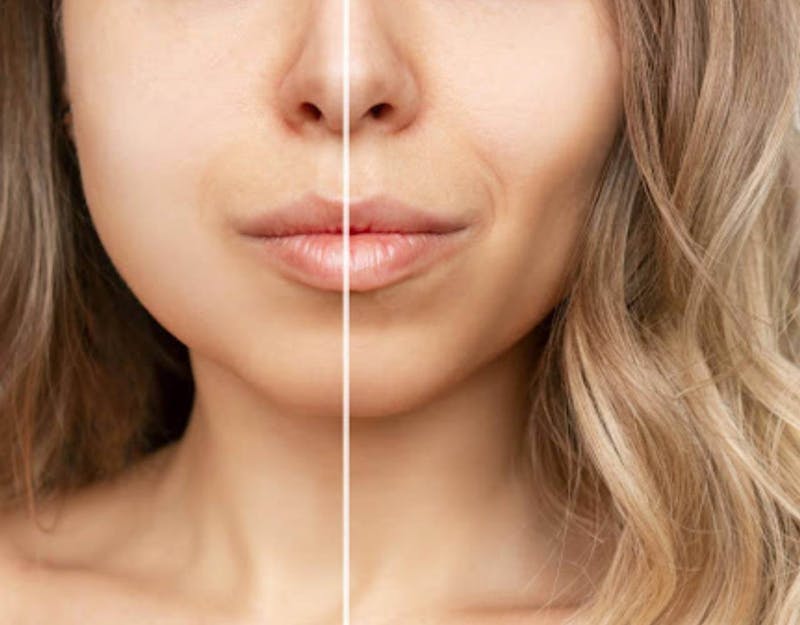 A chiseled look, thinner face, tapered chin, and less fullness have become the new standard of beauty. Celebrities, models, and even everyday people are increasingly looking to cosmetic surgery to target facial fat to achieve these contours. FaceTite and Buccal Fat Removal are two of the most popular facial contouring procedures to slim down the face, improve its proportion, and restore a youthful appearance. These procedures aim to highlight the face's bony architecture, giving it more angularity while still maintaining a natural look.
Despite their similarities, there are several differences between FaceTite and Buccal Fat Removal that patients should be aware of. Here, we will take a closer look at each procedure and its benefits to help you decide which is right for you.
What Is Buccal Fat Removal?
Buccal fat reduction is a cosmetic procedure. Buccal fat found above the jaw and below the cheekbone gives the lower cheeks their fullness. Further, buccal fat removal helps the face appear slimmer and more defined. Buccal fat removal, also known as cheek reduction or bichectomy, is a procedure that tries to reduce the cheeks, especially in the cheek hollows, to give patients a more contoured facial look. A tiny incision is made within the mouth for this minimally invasive surgery. This technique is frequently coupled with other facial operations such as:
Facelift
Rhinoplasty
Chin implants
Lastly, lip augmentation
What Are the Benefits of Buccal Fat Removal?
Makes Your Face Look More Chiseled
Removing cheek fat from the face is an excellent approach to a more chiseled appearance that highlights other facial characteristics such as cheekbones and jawline.
Achieve a Thinner Face
Are your cheeks big and chipmunk-like, although you're not overweight? Buccal cheek fat reduction is an excellent way to trim down your face and modify the form of your face from hefty and square to oval for a more sophisticated appearance.
What Is FaceTite?
FaceTite is a non-surgical facelift that eliminates facial fat and extra skin for a more youthful appearance. Radio-frequency radiation targets undesirable fat that shapes the face and tightens the skin in this FDA-approved technique. FaceTite is also the most sophisticated minimally invasive body reshaping therapy available. It's soft, harmless, and doesn't leave any visible scars. It also requires little recuperation time, allowing you to resume your daily activities quickly.
Benefits of FaceTite
The FaceTite treatment offers a long list of advantages, including:
Removal of Targeted Fat From the Face and Neck
Regular exercise and nutrition will not result in a localized decrease in fat tissue. You can't pick where you want to lose weight no matter how much you exercise or how well you regulate your food, or which muscle groups you target with your activities. That's why facial contouring without cosmetic assistance is so difficult—diet and exercise can only take you so far.
FaceTite is the best method for removing fat from the face and submental area because it achieves targeted fat reduction. FaceTite is a device that targets particular areas of the face and neck, such as the cheeks, jowls, double chin, and neck. The procedure uses radiofrequency radiation to dissolve fat tissues in specific areas, resulting in amazing outcomes.
Tightens Your Skin Tissues and Gives You a Chiseled Jawline
The removal of fat tissues is merely one step in the process. Even if one removes the fatty tissue, you may still have excessively drooping skin or skin laxity in the face and submental regions, giving the appearance of a fatty or aged appearance. FaceTite is a non-invasive procedure that removes fat tissue and improves face sculpting.
The FaceTite gadget encourages skin contraction at the subdermal level. The radiofrequency radiation stimulates collagen production in your body, tightening your skin and assisting you in achieving firm and taut face skin. Your face will then be contoured as well, giving you a sculpted jawline. The result is comparable to that of a small facelift but without the surgery and incisions.
Allows You to Resume Your Normal Activities Without Interruption
FaceTite is a 100% safe, minimally invasive technique that may be done as an outpatient procedure with little to no downtime. Most of your normal activities may resume within 48 hours, and you can return to work and life in 3 to 5 days. Consequently, FaceTite offers results similar to a facelift but without a lengthy recovery period.
Revitalize Your Appearance With Us Today
Don't be discouraged by drooping facial skin and muscular structures. If you're in the Beverly Hills or Los Angeles area, contact Sunder Plastic Surgery now to book a consultation and learn how Dr. Sunder can help you revitalize your look.