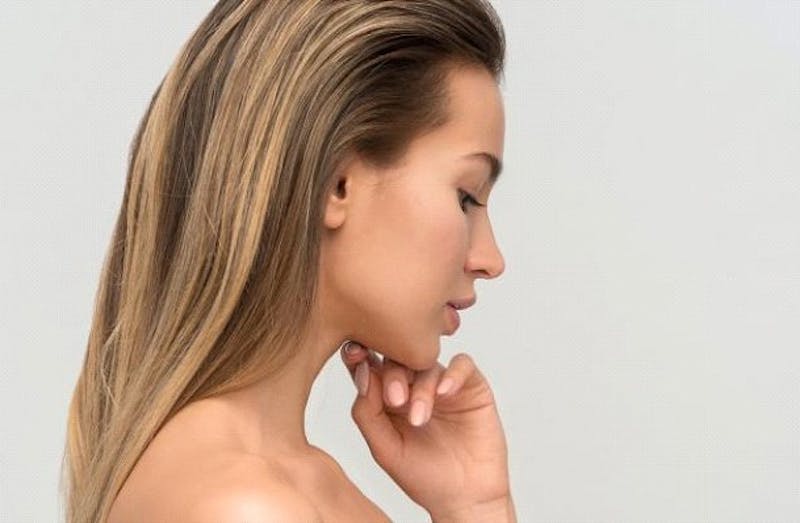 Although we are unique, we all grow older. For many of us, the years bring with them the tell-tale signs of aging: sagging cheeks, excess skin around the jawline, fine lines and wrinkles around the eyes and across the forehead.
For those looking to reclaim their youth, there is no more effective procedure than the facelift. A facelift, also known as rhytidectomy, delivers the gold standard in facial rejuvenation. Patients experience smoother, tighter skin and a more wakeful, alert appearance. The results truly are astounding.
Facelifts are, however, an invasive surgery, so they may not be suitable for everyone. Here's what you need to know about this gravity-defying cosmetic procedure.
What is a facelift?
Facelift surgery – rhytidectomy – is preferred by patients looking to address the signs of aging visible on and around the lower portion of the face, such as the cheeks and nasolabial folds.
The surgery is typically performed under general anesthesia and can take anywhere from two to six hours to complete. There are many ways to approach facelift surgery – Dr Sunder prefers the SMAS and deeper plane techniques to ensure the most seamless outcome for her patients.
During the procedure, the facial muscles are pulled tight, tissue is adjusted, and the skin is carefully smoothed over the face. The finished result reveals a refreshed, youthful face that maintains the patient's natural character.
Often, a facelift is undertaken alongside a neck lift to produce a refined, balanced, harmonious look. Fat transfers and fat augmentations are also popular among patients wanting to add plumpness and volume back into their faces.
Facelift surgery has undergone significant innovations over the past 25 years. Surgical techniques have advanced, offering patients longer-lasting, more natural results and a more comfortable overall experience.
Why get a facelift?
There is no right or wrong reason to get a facelift – this cosmetic procedure is all about fulfilling your own desires and achieving your own ideal of beauty.
With the vast majority of facelift patients over the age of 45, many opt for this remarkable surgery to minimize the appearance of regular, age-related changes to the face. The following signs of aging may be reversed through a facelift procedure:
Excess skin along the lower jawline, also known as jowls

A sagging or tired appearance of the cheeks

The deepening of the fold of skin that runs from the sides of your nose to the corners of your mouth (nasolabial folds)

If the procedure includes a neck lift, it may address excess fat and skin under the jaw and along the neck
Facelifts do not treat superficial signs of aging, such as sun damage, fine lines, or irregularities in your skin's pigmentation.
What results can I expect from a facelift?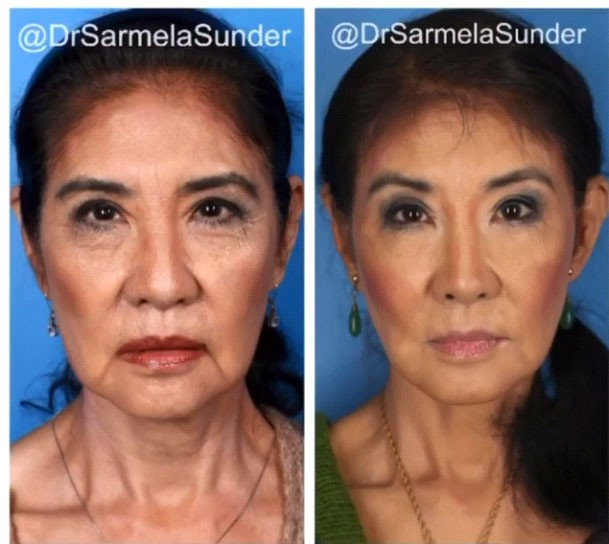 After recovering from a facelift, you can expect a more youthful appearance. Sagging areas will be tauter, and excess skin will be removed, creating a 'you-but-younger' look that is noticeable yet refined.
Facelift results are not permanent. As time goes on, the skin on your face may droop again.
Many patients are also concerned about scarring and how this may impact the quality and discretion of their results. Generally, a facelift incision is strategically placed along the hairline and behind the ear. With proper aftercare, these incisions heal into very subtle scars – many cannot see them at all without consciously looking. Dr Sunder takes extra special care to minimize the risk of noticeable scarring.
Is a facelift painful?
Facelifts are invasive surgeries that require several incisions. That being said, the vast majority of patients do not find facial surgeries to be overly painful or uncomfortable.
At our Beverly Hills clinic, patients take prescription-strength pain medication for just two days following their procedure. After that, they transition to acetaminophen for pain control.
What can I expect from facelift recovery?
Following your procedure, your incisions will be covered with bandages to reduce swelling and bruising. You may also have a small tube underneath your skin to drain any excess fluid.
In the first 48 to 72 hours after surgery, it's imperative you follow your surgeon's instructions. These may include keeping your head elevated, taking pain medication, and applying cold packs to the face.
You will attend several post-facelift appointments. Your surgeon will closely monitor your progress, change your bandages, remove stitches, and provide personalized recovery advice.
Is a facelift right for me?
If you are looking to reclaim your youth and rejuvenate your appearance, a facelift truly is the gold standard. Schedule your free consultation today to find out if this procedure is right for you.