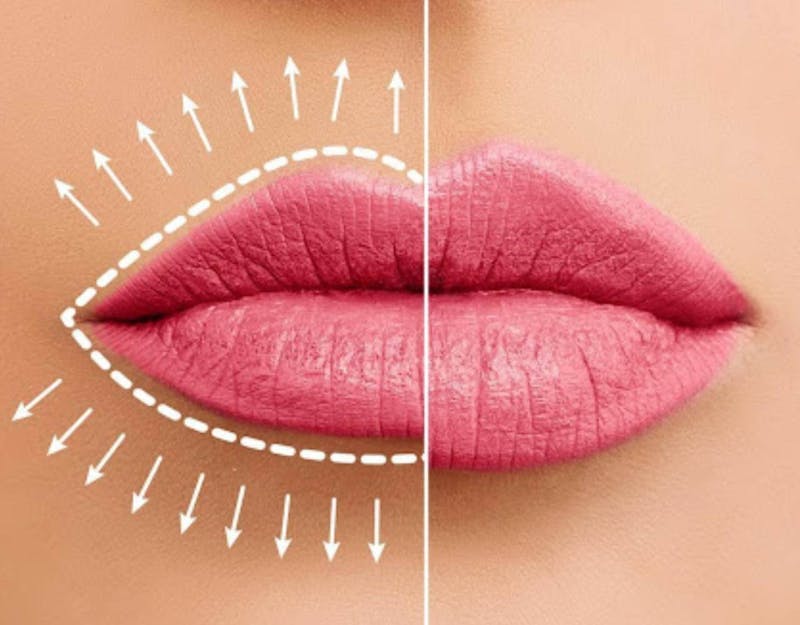 If you've ever wanted fuller, plumper, more luscious lips, you may have considered lip filler as a solution. Lip fillers can add a naturally full look to your lips and can be easily dissolved later. But what exactly is lip filler, and what is important to know about it?
What Is Lip Filler?
Lip filler is a dermal filler that can be injected into the lips and mouth. Fillers can add shape, structure, and volume into your lips or around your mouth. The gel in the lip filler helps to support and shape the structure of the tissues in the lips and mouth. A skilled injector can ensure that your lips are naturally fuller in all the right places without overfilling.
Lip filling procedures can cause mild discomfort. Your injector may use numbing cream, ice, and other distraction tools to help reduce discomfort and optimize your experience. While lip filler can provide results immediately, it is important to know that swelling may occur following your procedure. It can take up to 2 weeks for swelling to go down, after which your final results will be more visible.
Benefits of Hyaluronic Acid Lip Filler
The most common type of lip filler contains substances similar to hyaluronic acid, which is naturally found in the body. Hyaluronic acid lip fillers increase volume in the lips in the most natural and safe way possible, as the ingredients are "recognized" by the body. There are many benefits that hyaluronic acid lip fillers can give your lips. These can include:
Lip Volume Control
A skilled facial plastic surgeon can easily adjust the location and amount of filler in the lips, ensuring a natural look.
Gradual Pace of Treatment
Hyaluronic acid lip fillers can be done slowly over multiple sessions if you want a subtle look. This allows for swelling to go down in between treatments to make sure your lips are naturally and subtly plump.
Dissolves Easily
Lumps in the lips can sometimes occur after filling, but can easily be dissolved to maintain a natural appearance. Hyaluronic acid lip fillers can also be completely dissolved if you decide you are unhappy, making it a low commitment option for adding volume.
Less Bruising
Hyaluronic acid fillers often result in less potential bruising than other dermal fillers. This also decreases the amount of initial swelling in most patients.
Long-Lasting Results
While lip fillers are not permanent, they do last longer than other injectables. Most lip fillers last around 6 months, giving you freedom in your schedule without having to have regular fills.
Decreased Risk of an Allergic Reaction
Because hyaluronic acid is naturally found in the body, this type of dermal filler is much less likely to cause an allergic reaction, as your body is unlikely to see it as a threat. Always tell your injector about any known allergies you have.
Brands of Lip Filler
There are several brands of hyaluronic acid lip filler. The right choice for your lips will depend on what look you are trying to achieve. You will need to discuss with a professional which brand is right for you. Some popular brands include:
Restylane-L
Restylane Silk
Juvederm Ultra
Restylane
Juvederm Ultra Plus
Juvederm Volbella
How Long Does Lip Filler Last?
Most of the time, hyaluronic acid lip fillers last around 6 months. To maintain your lips appearance, you will need to schedule an appointment about twice per year. If you want to add more volume than initially planned, you can easily do so before the 6 months are up. Note that it takes around 2 weeks for swelling to go down after your appointment, so you will need to wait several weeks before seeing your final results. After a few weeks, if you are not happy with your results (either too much or not enough), your injector can dissolve some of the filler or add more. Discuss with a professional what type of results you want and bring pictures of examples if you can. This will ensure that you are more likely to get the look you desire.
Sarmela Sunder, MD
If you're considering lip filler, it is important to work with an expert you can trust. Only a trained professional can properly inject your lip filler. Dr. Sarmela Sunder is a double-board certified, fellowship-trained Beverly Hills facial plastic surgeon whose pioneering techniques have gained global recognition from her patients, colleagues, and the media. Contact us to schedule a consultation and see what Dr. Sunder can do for you.