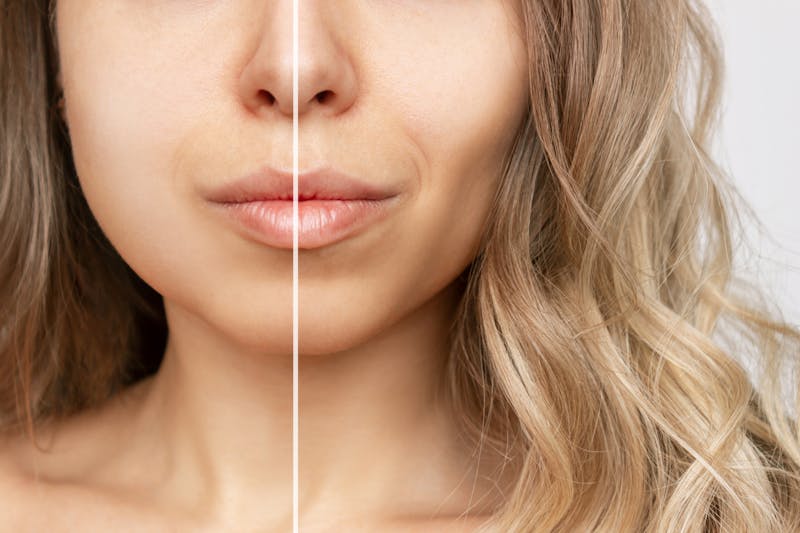 Cosmetic surgery has grown in popularity over the past decade. More people are opening up to the possibility of less invasive procedures like fat transfer surgery to enhance their physical appearance. But how successful are fat transplant surgeries? What is the secret to a successful face fat transfer surgery?
With the help of a highly qualified and experienced plastic surgeon, you increase your chances for successful fat grafting. Our board-certified facial plastic surgeon will work with you before, during, and after the fat transfer procedure to achieve the best results possible.
What Is a Fat Transfer Procedure?
Fat transfer, also known as autologous fat transfer or fat grafting, involves transferring excess body fat to a preferred body part. A plastic surgeon extracts the excess fat through liposuction, purifies it, and then injects it into the desired area.
Face fat grafting can restore youthful volume in the cheeks, chin, lips, and temples. Fat grafting to the face is effective in treating:
Sunken facial areas
Face lines, wrinkles, and creases
Acne scars
Problems caused by volume loss due to sun damage, aging,

and other factors
Fat transfer is effective at giving you a natural-looking, youthful appearance when performed by a well-trained and experienced plastic surgeon. Most face and lip enhancement fat grafting procedures need a single session. However, breast or buttock enhancements may require multiple surgeries to achieve the desired results.
What Is the Success Rate of Fat Grafting?
Fat grafting is a minimally invasive procedure that poses much lower risks than other cosmetic procedures. The success rate is also high, and allergic reactions are unlikely because a plastic surgeon uses the patient's fat for the procedure.
The success of fat grafting is dependent on the following factors.
The plastic surgeon's experience in performing the procedure
The technique the plastic surgeon uses
The patient's ability to stop smoking
The amount of fat the surgeon injects into the selected area
The amount of transferred fat that survives the selected area
Fat is more likely to thrive in its new environment if it is handled gently during the harvesting phase of liposuction. In most cases, about 80 percent of the fat a surgeon injects during any fat grafting procedure survives. The body metabolizes most of the remaining fat naturally and harmlessly.
Fat transfer is ideal because you're using your tissue rather than an implant as filler, therefore:
You get more natural outcomes
You face a shallow risk of allergic reactions
You can go home after the procedure because it is an outpatient treatment
You can plump up small areas of your face, including acne scars.
When compared to facial filler products that last for a year at most, face fat transfer results can be long-lasting. In some cases, the results can be permanent. Plastic surgeons often use fat transfer with facelift surgery for the best outcome. Be sure your plastic surgeon has the qualifications and experience to perform the procedure correctly.
Are You a Good Candidate for Fat Transfer?
Like any cosmetic procedure, you need to discuss it with a qualified plastic surgeon to know if you can safely undergo fat grafting. If you meet the following, you are most probably eligible:
You're almost at your ideal weight.
You are in good overall health.
You don't smoke, or you can stop smoking.
You have enough fat in your body that can be transferred.
How to Prepare for a Fat Transfer Surgery
Your plastic surgeon will give you detailed instructions on how to prepare for your procedure, such as:
Avoiding herbal supplements
Avoiding aspirin or ibuprofen
Drinking plenty of water
Quitting smoking
Always inform the specialist about any medications you are taking during the consultation so they can advise you appropriately.
How Safe Is Face Fat Transfer Surgery?
Fat transfer surgery is generally risk-free. Working with a plastic surgeon with extensive experience performing fat transfer is critical because of the high skill level required. As with any cosmetic surgery, there are possible risks which may include the following;
Infection
Bleeding
Scarring
Over- or under-correction
Due to the risks, it is essential to work with a board-certified plastic surgeon who is an expert in fat transfer procedures. This will help you reduce the risks to a bare minimum.
Speak With a Beverly Hills Plastic Surgeon About Face Fat Transfer Surgery Today!
Fat transfer outcomes are highly dependent on a plastic surgeon's expertise and fat harvesting technique. Dr. Sunder's goal is to recreate the natural, healthy appearance of your youthful face through fat transfer, not to change your looks.
When you choose a board-certified plastic surgeon like Dr. Sunder, who has experience performing fat grafting, you reduce the risk of developing complications. Contact us to book an appointment with Dr. Sunder today!