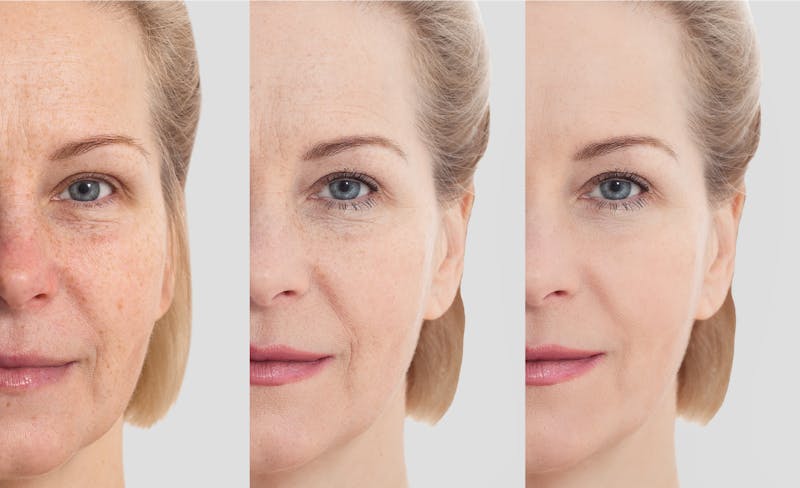 As you get older, you may start to notice wrinkles appearing on your skin. While wrinkles are a natural part of the aging process, there are ways to reduce their appearance and keep them from becoming too pronounced. In this article, we'll outline 7 ways to get rid of wrinkles. We'll provide a step-by-step guide on how to properly execute each method, so you can achieve the best possible results. We'll also talk about the pros and cons of each method, so you can choose the one that's right for you.
Use a Retinoid to Remove Wrinkles
Retinoid creams are the gold standard when it comes to getting rid of wrinkles. But what are retinoid creams, and why are they so effective? Retinoid creams are derived from vitamin A, and they work by increasing cell turnover and collagen production. This helps to improve skin texture and reduce the appearance of wrinkles.
If you're looking for an anti-aging cream that works, consider using a retinoid cream.
Get Massages and Exercise More
You've probably heard that getting massages and exercising are two of the best ways to get rid of wrinkles. And it's true—both of these activities help promote blood circulation and keep your skin looking young and healthy.
Exercise also helps you maintain a healthy weight, which is another factor in keeping your skin looking good. Extra weight can show on your skin as wrinkles and sagging skin.
So, make sure you're getting enough exercise, and don't be afraid to treat yourself to a massage every now and then. It's definitely worth it!
Increase Your Vitamin C Uptake
You might be wondering how to get rid of wrinkles. Well, the answer is simple: increase your vitamin C uptake. Vitamin C is essential for collagen production, and collagen is what helps keep skin looking smooth and wrinkle-free.
So, how do you increase your vitamin C uptake? There are a few things you can do: eat foods that are high in vitamin C (like oranges, strawberries, and broccoli), take a vitamin C supplement, and drink lots of water (which helps your body absorb nutrients better).
Doing all three of these things will help give you the best chance of eliminating those pesky wrinkles for good.
Exfoliate Regularly
Here are a few tips to help you exfoliate your skin regularly and get rid of those pesky wrinkles:
Use a gentle exfoliator. Plenty of exfoliators are on the market, and deciding which one to buy can be challenging. But as a general rule, go for a gentle exfoliator that won't irritate your skin.
Be consistent. The key to getting rid of wrinkles is consistency with your exfoliation routine. That means using your exfoliator at least twice a week.
Use circular motions. When you're exfoliating, make sure to use circular motions. This will help slough off the dead skin cells and reveal the healthy, new skin underneath.
Take your time. Don't rush it! Slow and steady wins the race when it comes to exfoliation.
Moisturize afterward. It's important to moisturize your skin after you've exfoliated it. This will help keep it hydrated and looking young and fresh.
Try a Wrinkle Filler
Another way is to try a wrinkle filler such as hyaluronic acid. These products are designed to fill in the lines and wrinkles on your face, making them less visible. And the great thing about them is that they come in a variety of formulas, so you can find one that's right for you.
To use a wrinkle filler, follow the instructions on the package. Most of them involve applying the product to your skin and then smoothing it out. And don't worry—you won't have to wait long for the results to show. Many wrinkle fillers give you an immediate "plumping" effect.
Consider Injections
You could also consider injections. Injections are a great way to get rid of wrinkles quickly and effectively. There are a few different types of injections that can be used, and your dermatologist will be able to help you choose the best one for you. Some of the most popular injections are Botox, collagen, and hyaluronic acid.
Botox is a protein that relaxes the muscles in your face, which is what causes wrinkles. Collagen helps keep your skin firm and elastic, and hyaluronic acid is a molecule that attracts water, which helps keep your skin hydrated.
Injections and skin tightening are great ways to get rid of wrinkles quickly and effectively. If you're interested in learning more, talk to your dermatologist today.
Apply Sunscreen Regularly
Applying sunscreen can also help get rid of wrinkles. First, ensure that you're using a sunscreen SPF 30 or higher. And don't forget to reapply it every two hours—or more often if you're sweating or swimming.
Another thing to keep in mind is that sunscreen should be applied to all exposed skin, including your neck and ears. If you're wearing makeup, apply sunscreen first, then foundation.
When choosing a sunscreen, it's important to pick one that's right for your skin type. If you have sensitive skin, look for a sunscreen labeled "gentle." And if you're looking for a high level of protection from the sun, go for a product with SPF 50 or higher.
Get Help With Wrinkles From a Certified Plastic Surgeon
Wrinkles are a natural part of aging, but that doesn't mean you can do nothing about it. There are plenty of ways to reduce the appearance of wrinkles and make you look younger.
Follow these seven steps, and you'll be on your way to smoother, younger-looking skin in no time. You can also reach out to us to learn more about our facelift services.